Restaurant in the souks of Marrakesh
Historic district – historic building
DRINKS - DINER - COCKTAIL BAR
Moroccan and international menus
Open every day except Wednesday from 7pm to midnight
Panoramic terrace overlooking the Medina of Marrakesh
Air conditioned room
To come in taxi ask the Mokef, to come on foot ask the Museum of Marrakesh.
Foundouk : equivalent of the caravanserai of the East, it consisted of multifunction buildings. It served as a hotel for people passing and their mounts when located next to the main entrance gates of the city. It was also used as a warehouse for commercial or industrial use when it is near the souks.
This one very old was completely restored in 2000.
The Rooftop restaurant Le Foundouk,
in the heart of the historic and authentic Marrakesh
The Restaurant Le Foundouk is part of the "world's best sky-high and rooftop restaurants" according to CNN 2016.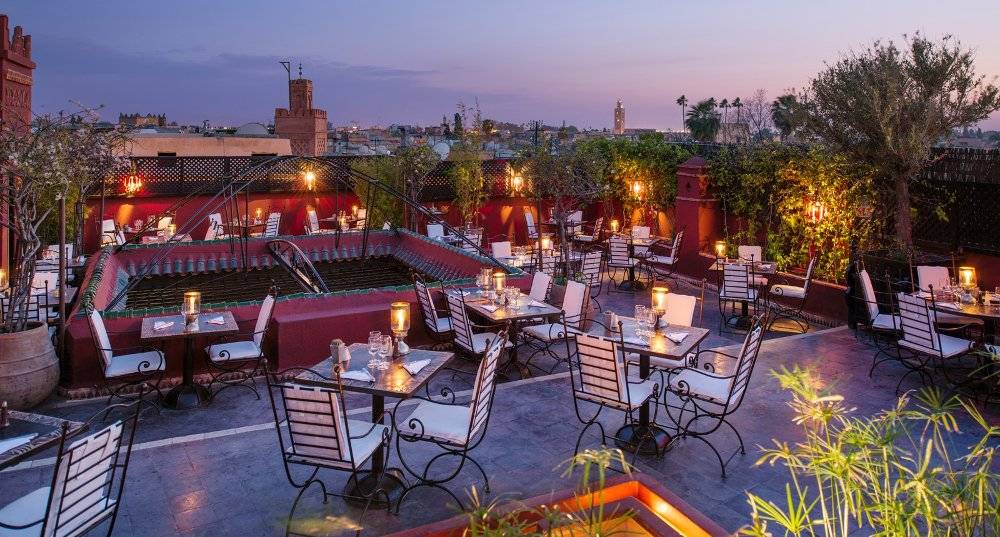 After the effervescence of the medina and souks of Marrakesh, the rooftop restaurant Le foundouk asserts itself as the best place to enjoy Moroccan or international cuisine with an outstanding view above Marrakesh.
Relaxed and trendy atmosphere, sumptuous view, the rooftop restaurant is a unique place! You fall immediately in love with this balmy and peaceful roof terrace. Marrakesh, the red city, extends out of sight with its many markets, gardens, palaces and mosques.
After sunset, the atmosphere is just magic, ideal for a romantic dinner. The terrace is softly lit by candles and recreates an atmosphere worthy of the Arabian Nights. A unique moment in a place which looks like any other.
Moreover, the word
magic
stays on all the lips.
Last news
The 30th Marathon of Marrakech
On January 27, 2019, come run or discover one of the most beautiful marathons in the world. 42,195 km in the red city, along the ramparts and the Palm grove.
Press review
«
Le Foundouk, le meilleur restaurant de Marrakech
Nous entrons au cœur de la médina de Marrakech pour découvrir l'un des secrets les mieux gardés : le Restaurant Foundouk, un incontournable qui ne vous laissera pas indifférent. Ce temple gastronomique est la combinaison parfaite de la qualité, de la diversité et de l'exotisme, se profilant comme l'une des meilleures options pour le touriste avide de bonne cuisine et d'un excellent environnement...
Lire la suite sur le site
Prensa Reunida
. »
Prensa Reunida, septembre 2018