Restaurant in the souks of Marrakesh
Historic district – historic building
DRINKS - DINER - COCKTAIL BAR
Moroccan and international menus
Onpened from tuesday to sunday – from 7 PM to midnight
Panoramic terrace overlooking the Medina of Marrakesh
Air conditioned room
To come in taxi ask the Mokef, to come on foot ask the Museum of Marrakesh.
Foundouk : equivalent of the caravanserai of the East, it consisted of multifunction buildings. It served as a hotel for people passing and their mounts when located next to the main entrance gates of the city. It was also used as a warehouse for commercial or industrial use when it is near the souks.
This one very old was completely restored in 2000.
The Rooftop restaurant Le Foundouk,
in the heart of the historic and authentic Marrakesh
The Restaurant Le Foundouk is part of the "world's best sky-high and rooftop restaurants" according to CNN 2016.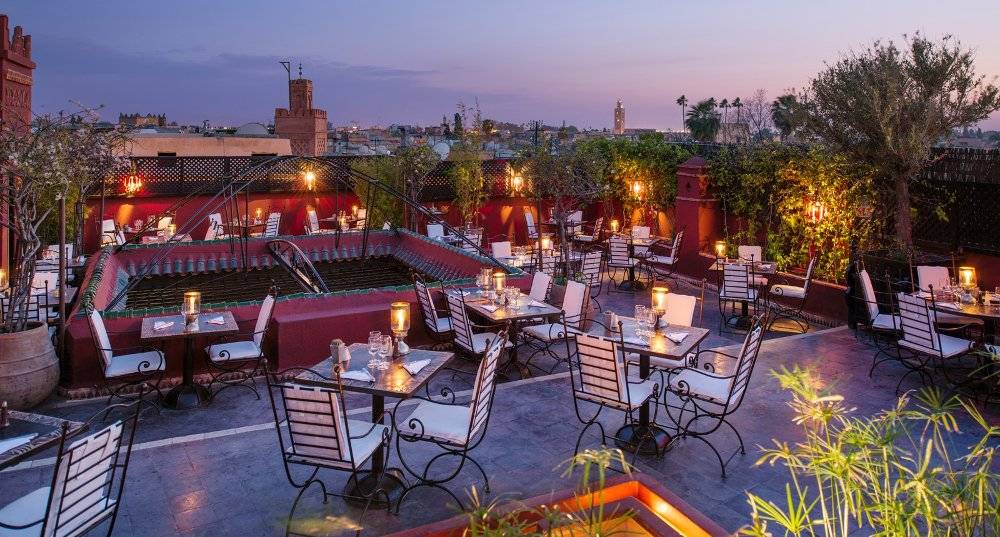 After the effervescence of the medina and souks of Marrakesh, the rooftop restaurant Le foundouk asserts itself as the best place to enjoy Moroccan or international cuisine with an outstanding view above Marrakesh.
Relaxed and trendy atmosphere, sumptuous view, the rooftop restaurant is a unique place! You fall immediately in love with this balmy and peaceful roof terrace. Marrakesh, the red city, extends out of sight with its many markets, gardens, palaces and mosques.
After sunset, the atmosphere is just magic, ideal for a romantic dinner. The terrace is softly lit by candles and recreates an atmosphere worthy of the Arabian Nights. A unique moment in a place which looks like any other.
Moreover, the word
magic
stays on all the lips.
Last news
A desire for a change of scenery?
Fly to Marrakesh in the Heart of Winter
It is the heart of winter and you're looking for a trip to change of scenery ? Make the choice of Marrakech, a place of tranquility and relaxation, enjoy the beautiful gardens and the spicy oriental scents in the souks. With an average temperature of 21°C in the afternoon in December, the...
Press review
« Where to Get Stylish in Marrakech ?

The medina's old-world charm has got serious competition from a slew of boutique boltholes just beyond the souks – making it a pretty fine place to spend an Arabian night.

Hitting the souks is a rite of passage for any Marrakech visitor, but once you're all haggled out, there's another corner of town beckoning, just beyond the stalls. Kaât Bennahid might be one of Marrakech's oldest neighbourhoods, but it's had a super-stylish growth spurt recently, with hip art galleries, chic riads and slick restaurants sprouting up, geared towards a fashionable set. We'd even go so far as to say they're some of the best spots in town.

LE FOUNDOUK
55 Souk Hal Fassi
Part of this restaurant's intrigue is that it's rather tricky to locate, but once you find it, you'll enter a lair filled with fragrant roses and flickering candles. Melt into one of the red velvet lounge chairs in the downstairs bar with a Casablanca beer.

Easy Jet - décembre 2016 »
Magasine EasyJet Traveller Déc. 2016